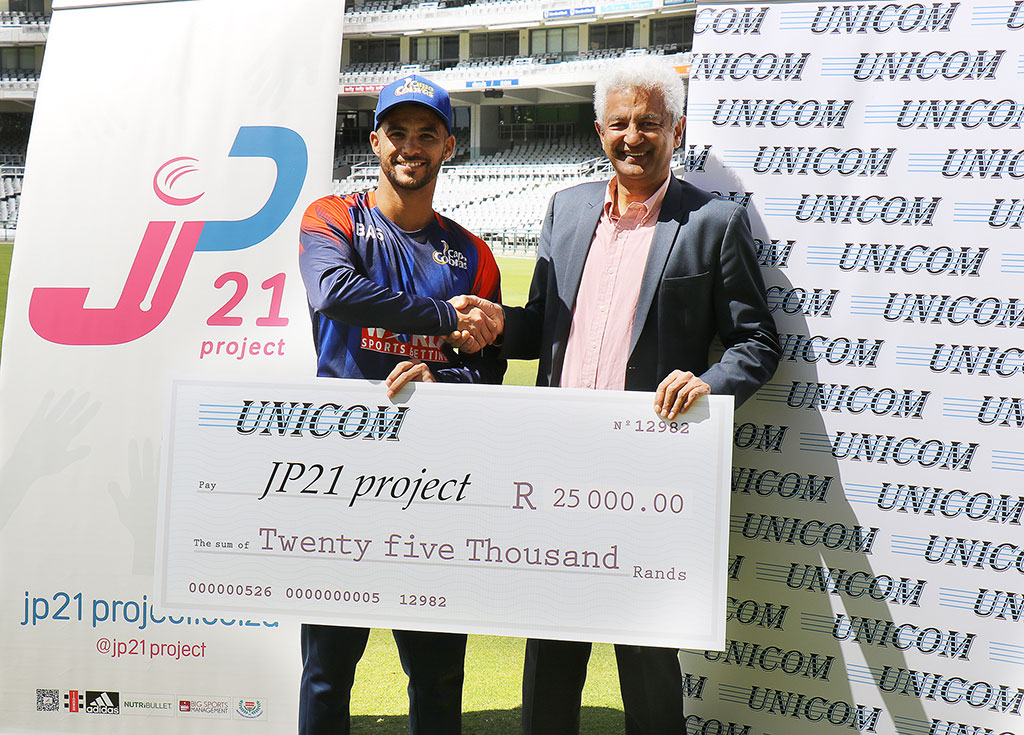 Oswin Slade, chief executive of Safika group's UNICOM technology company, presents a cheque to support the development of young South African cricketers to JP Duminy's JP21 project.
He is bringing international business to South Africa's economy and donating to South African cricket.
It was 42 years ago when Oswin, disgusted by apartheid, left his Stellenbosch home, flew to Australia and tore up his South African passport. Now, many years later, Oswin returned to Cape Town to bring to the country some of the world's most sophisticated communication devices.
"Democracy in South Africa is a wonderful thing and I am proud to see how my birth country has developed. For it to flourish, I believe it needs a solid economy and international trade," said Oswin, Chief Executive of Australian telecommunications company UNICOM. "If by providing state-of-the-art communications devices, I can give back to the land of my birth, it will be a dream come true."
Oswin is also looking forward to meeting his cousin cricketer Charl Langerveldt They share a common passion for cricket and to mark the reunion Unicom is donating R25, 000 to JP Duminy's JP21 project for under 21 cricket, a project that underscores values of respect, kindness, transparency and integrity
Oswin said that when apartheid ended, it was too late for him to return to South Africa, "I have an Australian wife and kids and it just seemed too much to uproot them. Throughout the years, though, I always dreamed the day would come when I could help."
Websites
https://safika.co.za/assets/uploads/JP-Duminy-and-Oswin-Slade-2U1A9818.jpg
735
1024
Jef
https://safika.co.za/assets/uploads/safika-logo.svg
Jef
2017-11-09 11:48:49
2018-11-26 14:28:48
Local boy made good, Oswin Slade, is trying to make a difference in South Africa.